These synopsis are detailed with the major bits as much as possible. It is highly recommended to watch the anime.
Episode synopsis 13 (Final)
[ GLÜHEN CONTENT] [ 1 - 4 ] [ 5 - 8 ] [ 9 - 12 ] [ JAP ANIME ]
While enjoying a breathtaking scenery, Omi suggested spending the rest of their lives as traveling florists. Ken and Yoji were keen with his idea but Aya remained silent...
Tomorrow
Yoji..
After a deep coma, Yoji gained conscious in a hospital. Unfortunately, he's inflicted with amnesia and it may be, probably, permanent. Yet, all is not lost, he fell in love with the nurse whose name was, coincidentally, Asuka. Soon, they were married and Yoji became an average working man. A life that his former self had always yearned for...
Omi...
Finally accepting his Takatori heritage, he entered the political world just as his father and uncle did. As expected, his enemies were seizing any single opportunity to assassinate him. Luckily for him, he had Nagi as his personal (and secret) bodyguard. Nonetheless, as 'Persia', things were not going well for his Weiss Kreuz team. The last four generations were annihilated, forcing Rex to start recruiting again. She recommended a potential candidate but Omi found his background and characteristics too similar to Aya's that he requested Rex to find someone else.
Later, at a social function, Knight from the Crasher team greeted Omi with disdain. He was no better than his father or uncle. Omi agreed. As the head of the Takatori family, it was his job to protect and preserve his bloodline and his men were merely tools at his disposal. As he left to meet the reporters, Knight remarked that he was weak for succumbing to the Takatori curse (the "like-father-like-son" fate). Rex objected. Omi was strong in every aspect, hence, sealed his sad fate...
Ken...
At Tokyo prison, police officers were analyzing inmate no 1257's case. Apparently, their orders were to keep him in there for as long as he liked. All suspected his connections with the Takatori family.
Meanwhile, Ken was pondering on what should he do next. He remembered how silent he was when he and Aya parted ways at the airport. In spite of everything he had gone through, he still felt completely lost, unable to let go of the past, uncertain of what the future might have for him. At that moment, a soccer ball rolled in front of him. Suddenly, something struck him. His lifelong passion for soccer. With that, Ken was confident that he would find the answer someday...
Aya...
After indirectly bidding his sister farewell, Aya left Japan and continued his work as he did always, carrying out justice for the weak. At a Catholic church (it seemed that he had been attending it for some time), he handed a nun a large wad of money. She thanked him. With the money, she would be able to support the orphans placed under her care. Then, a little girl gave Aya a flower. The nun urged him to accept her gift for he had paved a bright future for her when no one else would.
While walking down the streets during Christmas, Aya reflected about Sena's wish on ending the world of their sorrow. Suddenly, young boy 'bumped' into Aya, plunging a knife into him. Strangely, Aya continued walking on in spite of the intense bleeding.
Then, he recalled the talk they all had on that day. Omi suggested about them traveling the world, selling flowers as and when they like, visiting new places and meeting people. Yoji added that they had to replace the sound system in their van. Ken cheekily teased on being their 'sound system' instead. The last statement was "Aya, let's go..."
Collapsing at a nearby postbox, Aya murmured sadly, "Ah, sou da na... Ken, Yoji, Omi.. Isshou ni ikou... (let's go together)..."
He passed out...
It began to snow and the scene faded away to darkness...
A white feather fell to the ground...
OWARI (THE END)
(GeneWEiß: Koyasu Takehito should be damn grateful that he's in Japan, thousands of miles away from my wrath!!! A 3rd Season is definitely in order!!)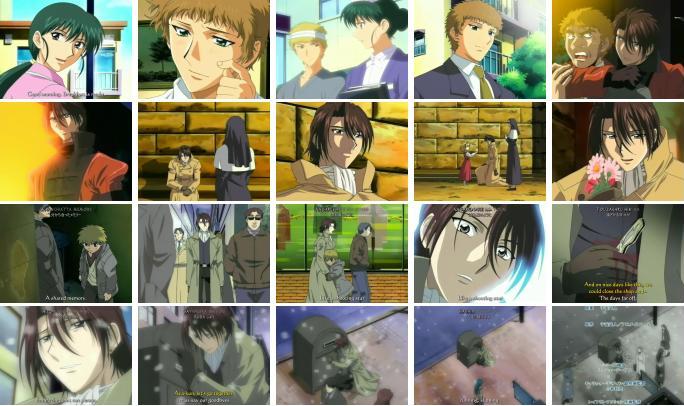 ---
[ GLÜHEN CONTENT] [ 1 - 4 ] [ 5 - 8 ] [ 9 - 12 ] [ JAP ANIME ]